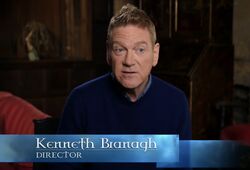 Kenneth Branagh is a director and actor who is the director of the Artemis Fowl film release.
Branagh is renowned director who is well-known for directing film releases of William Shakespeare plays, including As You Like It, Hamlet and Much Ado About Nothing. His other works include adaptations of Murder on the Orient Express and Cinderella. As an actor, he is known for numerous roles, including Gilderoy Lockhart in Harry Potter and the Chamber of Secrets, Kurt Wallander in the TV series Wallader and the famous fictional detective Hercule Poirot in two Agatha Christie adaptations also directed by him.
He has stated that he considers Artemis's journey in the film to be similar to that of Michael Corleone from The Godfather.[1]
He first fell in love the Artemis Fowl story during a vacation with his nephews. When he learned that Disney producer Sean Bailey was searching for someone to direct the film, he volunteered. In describing his philosophy for making the film, he stated that it was to copy Eoin Colfer and not get in the way, not rushing, but celebrating swiftness of thought. He also stated that while the second book of the series, Artemis Fowl and the Arctic Incident does influence the film a little bit, he tried to hang on to as much of the first book as possible.[2]
External links
References