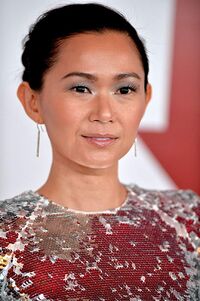 Hong Chau (born 1979) is a Vietnamese-American aactress[1] who was cast to appear in the Artemis Fowl film as Opal Koboi.
However, all scenes featuring Chau as Opal Koboi were deleted from the film and she does not appear in the film's credit. The shadowy female figure form of Opal Koboi seen in the film was instead played by Emily Brockmann, Jessica Rhodes and Charlie Cameron.
Certain sources have indicated that the voice of Opal Koboi heard within the film is that of Chau.[2]
External links
References
↑ HCM City featured in Disney's new blockbuster. Vietnam+ (March 5, 2020). Retrieved on March 8, 2020.
↑ Rooney, David (June 11, 2020). 'Artemis Fowl': Film Review. The Hollywood Reporter. Retrieved on June 27, 2020.
Community content is available under
CC-BY-SA
unless otherwise noted.