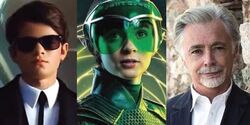 Fowl, Fairies & Family is a one-man show by Artemis Fowl series author Eoin Colfer. Presented live on Tuesday, March 10 at 7 P.M. at the Civic Theatre in Tallaght, South Dublin, Ireland, the show was taped for Disney+, Disney's exclusive streaming service, to celebrate the premiere of the Artemis Fowl film and to present Artemis Fowl's adventures to a global audience.
A small portion of the footage was later used for the Disney Insider episode "Artemis Adventure, Taste of Disney, Runaway Railway," the opening of which features Colfer taking viewers on a magical tour of Ireland.
Although this was not the first performance of the show, which previously won the Herald Angel Award, the show was re-imagined for this new performance.[1]
Description
A Special Taping of his Award Winning Show by Disney+ to mark the release of Disney's ARTEMIS FOWL.

In 2000, Irish writer Eoin Colfer shot to fame when the manuscript for his fantasy novel featuring the teenage criminal mastermind Artemis Fowl– earned him the largest-ever advance for an unknown children's author. He has since built on this success with a further 7 novels about the adolescent genius, selling more than 25 million copies worldwide.

Winner of a Herald Angel Award at the Edinburgh Festival Fringe, Colfer's reimagined one-man show 'Fowl, Fairies and Family' offers a witty insight into the inspiration for his protagonist as well as bringing us up to date on the world of Artemis Fowl in 2020, ahead of it's movie release in May this year. With 8 books to cover and a new spin-off series 'The Fowl Twins' featuring Artemis' brothers, Myles and Beckett, there's a lot to catch up on.[1]
References
Community content is available under
CC-BY-SA
unless otherwise noted.