Ferdia Shaw is an Irish actor who will portray Artemis Fowl Jr. in the upcoming film adaptation of Artemis Fowl.
Ferdia was confirmed to play the role of Artemis Fowl II in the movie adaptation of Artemis Fowl on December 2017. He was chosen among 1,200 candidates for the role. The film is feature debut.
Biography
Ferdia Shaw was born in Dublin, Ireland, but has lived in Kilkenny for most of his life. He attends the local secondary school Gaelscoil, where the students are educated through the Irish language.
He is also a member of Young Irish Film Makers, where he has learned the technical aspects of film making, and where he has made his own short films.[1]
Personality
Ferdia is keenly aware of the huge environmental issues that need to be addressed and is an advocate for the rights of animals and is vegan.
He loves to read books, particularly in the science fiction and fantasy genres.
Ferdia also enjoys playing board games, with Talisman being his favourite. He is also a huge Star Wars fan.[1]
Artemis Fowl (film)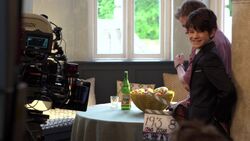 In 2017, he auditioned for the role as the anti-hero Artemis Fowl II in the film adaption. It was confirmed that he was portraying the character December 20th 2017.
Ferdia started filming in Ho Chi Minh City in March 2018 with Nonso Anozie (Domovoi Butler), Jean-Paul Ly (Nguyen Xuan) and Hong Chau (Opal Koboi. Production continued in the UK and Ireland. The cast including Lara McDonnell (Holly Short) and Josh Gad (Mulch Diggums) filmed together throughout April and May, potentially at the Fowl Manor set. He filmed with Lara McDonnell in Windsor at the end of May 2018.
While filming at the Fowl Manor replica, Sir Kenneth Branagh (director) led him to Artemis' room. On the bookshelves in the room, he found copies of books he had read. Branagh told him the set decorator had added all the books Ferdia had mentioned reading. Ferdia's knowledge of the Gaelic language became handy to add details (ex. post-it tabs) in the room. Later, Ferdia rearranged the room.
Filming wrapped and entered the post-production June 2018. The film was released directly to Disney+ on June 12, 2020.
In the behind-the-scenes featurette "Meet Artemis Fowl" released alongside the film, Lara McDonnell, the actress for Holly Short, described Shaw as having become like a brother to him, and that they sometimes did schoolwork together on set. Tamara Smart, the actress for Juliet Butler, stated that she had learned a lot from him, such as how to juggle.
Before Artemis Fowl
Before he captured the role as Artemis Fowl II, Ferdia performed in some local theatre productions with Barnstorm Theatre Company. He can also be seen in a short film/trailer as a part of the 'Kilkenny Famine Experience'.[1]
Trivia
His grandfather, Robert Shaw, was also an actor. He was famous for his portrayal of Quint in Jaws.
His grandfather's birthdate is coincidentally the original premiere of Artemis Fowl film: August 9th, though the premiere was later postponed to the June 12th premiere date.
Interviews
External links
References
↑ 1.0 1.1 1.2 Ferdia Shaw [actor]. Lisa Richards Agency. Retrieved on June 11, 2020.
Community content is available under
CC-BY-SA
unless otherwise noted.