This article about a bestselling Irish novelist is a stub.
Eoin Colfer [ow·uhn kowl·fr] is an Irish novelist. He has published many books, most namely the Artemis Fowl series.
Biography
He was born on May 14th,[1] 1965 in Wexford, Ireland.[2] He still lives in Ireland, where he taught as a teacher until 2001, when the success of the Artemis Fowl books allowed him to focus on his writing.[2] Characters from the Artemis Fowl series were originally teaching tools.[citation needed]
He now lives in Ireland with his wife Jackie and their two sons Sean and Finn. "Eoin" is pronounced as the English name "Owen."[2]
Works
The Artemis Fowl series currently spans eight books:
In addition, there are the The Artemis Fowl Files,[10] which contain's (among other things) the short stories LEPrecon and The Seventh Dwarf, the latter of which was previously published separately for World Book Day. LEPreconandThe Seventh Dwarf were both first published in 2004. There are also Artemis Fowl graphic novels of the first and second novels published in 2007.[11]
Colfer had said that there would't be another Artemis Fowl novel for at least two years after the publication of The Time Paradox,[citation needed] which coincides with the release date of The Atlantis Complex.
He has written many other books including:
Benny and Omar (1998)[12]
Benny and the Babe (1999)[12]
Going Potty (1999)[citation needed]
The Wish List (2000)[12]
Ed's Funny Feet (2000)[13]
Ed's Bed (2001)[14]
The Supernaturalist (2004)[12]
The Legend of Spud Murphy (2004)[12]
The Legend of Captain Crow's Teeth (2006)[12]
Half Moon Investigations (2006)[12]
The Legend of the Worst Boy in the World (2007)[12]
Airman (2008)[12]
And Another Thing... (2009)
Plugged (2011)
He also went on a comedy tour under the banner of Fairies, Fiends and Flatulence throughout the US to promote The Time Paradox's release.[15] He has since created another such tour, Fowl, Fairies & Family, one showing of which is being recorded for the streaming service Disney+ to promote the Artemis Fowl film release.
External links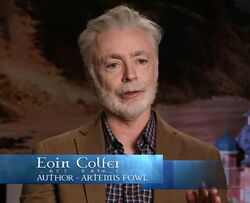 References